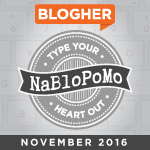 I'm back in South Dakota and really, really tired.
I accomplished nothing this weekend. The end of Daylight Saving Time is causing its usual wonkiness. I broke my knitting needle, so very little knitting progress. I couldn't manage to face the Denver traffic, so I didn't hit any of the stores on my agenda. I was going to grout the fireplace tiles at Homestead South and touch up some paint and I have some graphic design work to do for Marcus and except for getting some Micron pens, didn't do any of that.
I got a text from United airlines that my flight was going to be delayed, so I was dawdling getting to the airport. Then I get a notification en route that it's back on time. Luckily, security wait was only 20 minutes, so I still made it to gate on time.
Had a bunch of things I was going do do once I got home, but I'm spent.
It's been weird in that it hadn't really hit me that my father died. I knew he had and I was dealing with his affairs, but since I only saw him once a month, it wasn't concrete. Once I was at the service, though, it was real. Friday was the first that I really let myself cry and grieve. Today also would've been his 81st birthday. I was struggling with plans since I last saw him on my birthday on how I was going to get down here to visit him on his birthday. It struck me this morning as sadly ironic that here I was in Denver as I had hoped, but not for the reason.
Here's Project 365 #6 - at gate at DIA for flight to Rapid City: