My 1001 Day Project
Ends In:












DAYS : HOURS : MINS : SECS
Start: January 1, 2018 | End: September 28, 2020
So, I've been really stagnant on my goals. I did move to South Dakota on August 1, 2016 and we bought a printing business that started on August 1, 2017, so I knocked a couple of major ones off the last list. I need to find a balance between my personal life and my work life, though. I really haven't done much creatively in the last year and I'm still not unpacked at the house. I feel like an outsider even though I have been here well over a year full time and five years part time.
2018 is going to be the year I get back to being me. I'm going to craft and create and garden and read and I'm going to take time to knock off these things I keep putting on these 101 lists for a dozen years now and never do. I'm also going to put extra effort into finding additional income streams so that I can finally have Marcus living up here with me.
After watching my parents both live unfulfilled lives, I don't want to find myself old and wishing I had lived differently.
So, over the next few days I'll revamp the list and will save it in a post. I wish I had done that for previous incarnations to see how my goals have changed over the decade. Oh, well...FRESH START!
ETA: OK, so Wayback Machine may be the way to go to find past lists. I'll have to do that!
Posted by LaDonna on 01/01/18 at 11:16 PM
Categories: Permalink
Goal Number: ALL ♦ Goal Status: Planning
When I restarted in 2013 and wrote that my life was about to change, oh boy, did it, but not in a good way. Dad's had at least a couple of strokes and the last couple of years I've been having to deal with him being in and out of the hospital and rehab and finding him assisted living on an extremely limited budget. We moved to a condo that's been in a state of remodel for over 2 years, our house up North has been in a state of building/remodel for almost 4 years. I'm tired of putting my dreams and plans on hold. This year, on September 11, I turn 50. I swore to myself that I will leave my current job either before I turn 50 or, by the latest, before I reach my 10 year anniversary there (that is the first week in November). I'm 2 years away from the age Mom was when she died. I'm not going to let myself get to the point that I either die early or die before doing things I wanted to accomplish.
I can't remember how many times I've restarted this. My best guess, as I've deleted posts from the first couple of tries, is that I've been trying to get this thing going for over 10 years. I've only ever finished a tiny handful of things on any list (this last one had ONE item I accomplished). It's time to start living and start doing.
Posted by LaDonna on 06/20/16 at 09:08 AM
Categories: 101 in 1001 • Permalink
Goal Number: 6 ♦ Goal Status: In Progress
I'm attempting to complete
Project 365
for the umpteenth time. I'm posting pics in their
own Project 365 category
on on the main DomesticGeek blog.
Posted by LaDonna on 11/01/14 at 11:38 AM
Categories: Project 365 • Permalink
Some stuff happened recently that made it extremely clear my life is about to change. Once I get to South Dakota, I may go into details about that, but as of yesterday, I'm going with plan B to get up there. This will involve some scary stuff for me as I plan to do freelance design work and sell some crafts through Etsy. Since my life is basically starting anew very shortly, I decided to revamp the list and start fresh from today, September 1, 2013. I'll be revising the list over the next few days - hopefully I'll get more checked off this time!
Posted by LaDonna on 09/01/13 at 11:31 AM
Categories: Permalink
OMG, just realized my end date is one year from today. Looking through my list, I've got a lot to tackle. Most importantly, though, is #2. After some serious messed-up crap at work lately (that I will not put into words on the Internet), I have got to get out of there. I must get off my duff and get out of my comfort zone and make the things I want to happen become reality. This "temporary" job I took at the printers has turned into longest stint of employment I've ever had (the 15 years of pizza was actually broken up into small segments with different owners, brief periods where I quit, etc.). When I found myself outside for the 2nd time in less than a month forcing myself to go back inside instead of getting in the car to drive away for good, it hit me that it's time to face my fears of the unknown and move on.
I don't want to be one of the many losers stuck at that company when I'm old because I don't have anything else.
Crap, just realized if I want to complete a Project365, I have to take a picture everyday from today on. Ok, then...
Posted by LaDonna on 06/08/13 at 08:06 AM
Categories: Permalink
Goal Number: 29 ♦ Goal Status: Completed
After Marcus and I have changed our diets to remove as much processed foods as possible and after the last time feeling ill after we had beef/broccoli from the place across from work, I knew I needed to cross this one off. I decided I didn't need to actually buy a wok as I technically already owned one (see nice, rounded bottom pan in picture). I did, however, finally Google how to do and came across this video on YouTube:
Marcus and I bought the stuff this past weekend on our weekly Whole Foods trip. They even had precut stir fry meat (wish it was grass-finished, but you can't seem to find any of that in this town). Instead of getting all of the various ingredients for the sauce that was in the video, we went with a bottled organic one. The only thing missing that I really wanted in there was bean sprouts - for some reason, I could not find any. I'll have to get busy on the one goal I have of growing my own sprouts.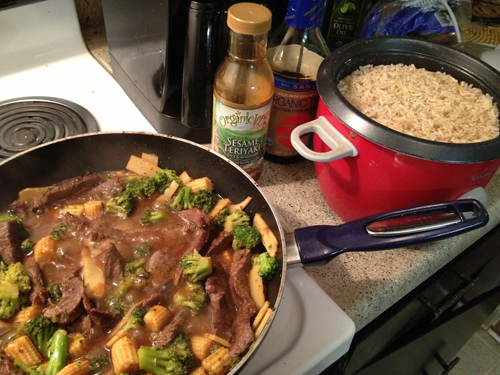 Posted by LaDonna on 04/14/13 at 10:04 PM
Categories: Permalink
Goal Number: 22 ♦ Goal Status: Completed
Did not have time to post as I completed this goal last month, but I entered everything (DVDs, CDs, and books) into the Delicious Library as I packed them. Yay - three down!
Posted by LaDonna on 10/20/12 at 10:15 PM
Categories: Permalink
Goal Number: 10 ♦ Goal Status: Planning
I joined a group on Ravelry called
112 in 2012
. The goal is to simply do 112 crafty things in a year. The above ticker is to keep track of my progress.
The link to my thread is
here
.
Posted by LaDonna on 12/28/11 at 06:14 AM
Categories: Permalink
Goal Number: 18 ♦ Goal Status: Completed
Whew, I only had two chances to make this one happen and I managed to make wishes both times. Now we'll have to see if they come true!
Posted by LaDonna on 11/12/11 at 07:36 AM
Categories: Completed Goal • Permalink
Goal Number: 55 ♦ Goal Status: Completed
Got to knock the first goal off the list yesterday. Work finally gave me a pair of Broncos tickets to the
Broncos game against the Cincinnati Bengals
. They even threw in a VIP parking pass, so I didn't have to figure out where to park or take public transport. My friend Dave went with me and we had a really nice afternoon. The Broncos even managed to pull out a win. WhooHoo! BTW, I'm now a huge Eric Decker fan. Finally, a #87 worthy of wearing Ed McCaffrey's old jersey!
It was also the game where they presented Shannon Sharpe with his Hall of Fame ring. That guy is a class act.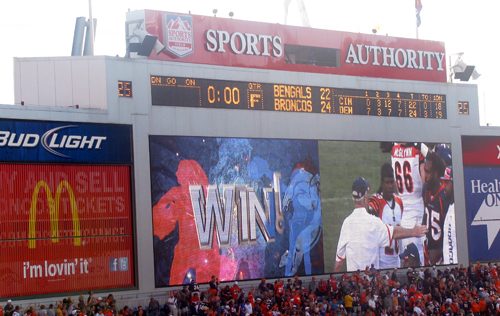 One down...100 to go!
Posted by LaDonna on 09/19/11 at 08:12 PM
Categories: Completed Goal • Entertainment • Permalink