My 1001 Day Project
Ends In:












DAYS : HOURS : MINS : SECS
Start: January 1, 2018 | End: September 28, 2020
I haven't been able to come up with 101 goals yet, so the list will be a work in progress.
Posted by LaDonna on 09/11/11 at 05:48 PM
Categories: 101 in 1001 • Day Zero • Permalink
Project 365
back on January 1 of this year (you take and post a photo a day for a year). As you can see by my own Flicker
Project 365
set, getting Pneumonia at the end of the month put the kibosh on that plan.
I decided that I'm going to reboot the project starting August 1
st
. I'm hoping this exercise will capture the most pivotal year in my life.
ETA 8/7: OK, not sure how I'm going to get this going when I work those stupid 13 hour shifts. Last thing I want is pictures from work in it, but I can't seem to take any pictures of anything else on those days.
Posted by LaDonna on 07/23/10 at 05:56 AM
Categories: Project 365 • Permalink
Posted by LaDonna on 06/08/10 at 03:56 PM
Categories: Permalink
Recipe Card Maker
. I'll have to give it a try.
Posted by LaDonna on 06/05/10 at 11:51 AM
Categories: Home • Permalink
Heelhead Scarf
that's I've been working on since the opening ceremony of the Winter Olympics (Feb 12). It wasn't actually the first project I've made with cables, but it is the first one that is actually finished. Picture to come as soon as it is dry from blocking.
Posted by LaDonna on 04/21/10 at 07:44 PM
Categories: Completed Goal • Hobbies • Permalink
Posted by LaDonna on 04/20/10 at 05:53 AM
Categories: 101 in 1001 • Personal Improvement • Permalink
We left last Saturday, June 20th, and traveled to North and South Dakota. We got back very early in the morning yesterday. We promised people at work that we'd be back in time for Mary Kay's retirement party Saturday evening on the 27th. When I get a little bit of time, I'll post details of the trip.
08/2009 - OK, apparently I'm never going to get around to writing a post. Marcus did, though. You can
read about our trip over on his site
. Scroll down a bit, he wrote 3 different posts last month.
Posted by LaDonna on 06/28/09 at 04:02 PM
Categories: Completed Goal • Travel • Permalink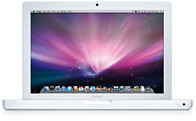 Today, thanks to help from Marcus (he put up half), I'm now the proud owner of a white 13.5" MacBook and I get to cross item #16 off the list.
I just got my tax refund and Microcenter was offering a $200 rebate, so now was a good time to get one. My poor G5 tower is having more and more problems. It was getting harder and harder to get it to boot and it stopped recognizing most of the memory in it. Trying to do any design work on it whatsoever was becoming a real drag. My Windows laptop is also on its last leg. The battery hasn't held a charge in a long time & the screen totally blacks out when it gets the slightest bit overheated.
Now I have to get some hard drive enclosures to house the data drives that were in the tower. I am also thinking I'm going to make this cool
felted laptop sleeve
for it.
Posted by LaDonna on 04/19/09 at 07:58 PM
Categories: Completed Goal • Permalink
101 Things in 1001 Days
project for over three (3) years now. I really want to do this and it is time I got started again. I think that the ugliness of the old site and my unwillingness to actually code a pretty design for the Expression Engine CMS was part of the problem. I'm in a really weird place with web design and coding right now — kind of a love/hate relationship. On top of that, my direction in life has shifted in a big way. Whereas before I was focused on getting into graphic design and acquiring things, now I'm into a simplify and purge mode of thinking. I'm going to be retooling the list this afternoon and hope to have it posted by this evening. I also need to find a nice blog theme for this site. I may design something later, but now I just want something relevant and pretty.
The criteria is as follows:

As seen on Day Zero:
The Mission:
Complete 101 preset tasks in a period of 1001 days.

The Criteria:
Tasks must be specific (ie. no ambiguity in the wording) with a result that is either measurable or clearly defined. Tasks must also be realistic and stretching (ie. represent some amount of work on your part).

Why 1001 Days?
Many people have created lists in the past - frequently simple goals such as New Year's resolutions. The key to beating procrastination is to set a deadline that is realistic. 1001 Days (about 2.75 years) is a better period of time than a year, because it allows you several seasons to complete the tasks, which is better for organising and timing some tasks such as overseas trips or outdoor activities.

Some common goal setting tips:




Be decisive. Know exactly what you want, why you want it, and how you plan to achieve it.


Stay Focussed. Any goal requires sustained focus from beginning to end. Constantly evaluate your progress.


Welcome Failure. Frequently, very little is learned from a venture that did not experience failure in some form. Failure presents the opportunity to learn and makes the success more worthy.


Write down your goals. It clarifies your thinking and reinforces your commitment.


Keep your goals in sight. Review them frequently, and ensure that they are always at the forefront of your thinking.

Posted by LaDonna on 03/14/09 at 06:01 AM
Categories: 101 in 1001 • Permalink