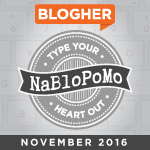 Well, it's November 1st and I'm going to once again attempt to complete NaBloPoMo (National Blog Posting Month). It wasn't until I was looking at my blog last night for something that I realized it was ready to happen again. I don't know what happened last year. I just suddenly stopped after 4 days. I went back through my Facebook timeline to see if something triggered it (like the previous year's health issues), but nothing. Oh, well...
A lot has changed in the past year — I'll try to address a lot of that over these posts. There's also a lot of things I had put on hold (some without realizing it) and I'll try to address some of those, as well. All I know is I want to get the old blog back up and resume posting regularly. I miss this outlet. I'm going to update the Expression Engine CMS this month and try to get the commenting system issues fixed. Then I want to get my CSS skills back and dive into some HTML5. My web skills are rusty and it's time to break out the oil.
The biggest and most important change this year was that I finally found a job in South Dakota. It was the ultimate catalyst to get me out of my comfort zone and away from the soul-sucking job I had in Denver. When my boss there quit for the 2nd time, I was killing myself to try and keep the department from sinking. I was working 60-70 hours per week, my office mate was a dumb ass, my new boss totally inexperienced, they weren't looking for anybody new to hire and I just couldn't do it anymore. Funny that they finally hired 2 people to replace me and now I hear my old boss is back. I'm not going to post where I work now or what I'm doing, but I took a huge pay cut and at least I'm back in a field for which I actually went to school. While I'm pretty sure this won't be a long-term gig and I do still have dreams of my own business (which I may one day share), at least it is good for right now. I am going to have to find some additional income, though. I was working at night for my former company while they were getting their newbies trained (managed to keep that up for 2 months), but even that became unbearable.
So, as of August 1st, I became a South Dakotan. It's weird, because I've never lived in any other state. Seeing South Dakota license plates on the old Baja for the first time was a little strange.
The second biggest thing is my father passed away on October 16th. He's been in bad shape for well over 2 years. While I'm sad that he passed, I am glad he is finally out of pain and hopefully in a better place. I will be flying to Denver on Thursday for his service at Fort Logan. After that, I really won't have any ties to Colorado other than Marcus is still living there. I can't wait for the day he can cut ties there, as well.
I'm also going to attempt Project 365 once again to get it knocked off my 101 in 1001 list that I started up again. The photo below is from the Long Draw prescribed burn about 5 miles southwest of Hill City: