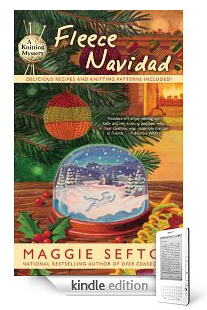 I finally caved today and bought myself my first eBook. I vowed a few months back that if a digital edition of something I wanted was available, I wasn't going to bother getting the hard copy of it. I'm tired of the dust they collect and the space they take up. I felt like doing to some light, cheesy reading, so I purchased the next book I had yet to read in the knitting mystery series by Maggie Sefton,
Fleece Navidad
(I'd put one of those Amazon Associates links up like I used to, but I can't thanks to the feud between the state of Colorado and Amazon). The books in this series are corny and predictable, but they're basically set in Ft. Collins and I like reading them.
I downloaded the Kindle app for my iPhone and the application for my Macbook and I'm all set. Reading on the iPhone is a little rough, but will do in a pinch. I totally enjoyed reading with my Macbook in bed. I do that while surfing blogs all the time anyway. Someday, when I've got the funds to get one, I'll enjoy reading on an iPad.
I hope that more reading material becomes available digitally (magazines, etc.). I know some people just love the feel of turning pages, but I'll gladly give that up to rid myself of the clutter.