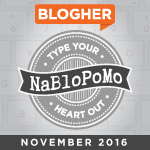 Happy Veterans Day.
I'm snuggled in bed cross-stitching and watching TV. I just got through watching a version of "Gypsy" on PBS. I've always loved that musical - I was in the pit in high school. It wasn't until tonight, though, that I realized that my mother was Rose. I'm not going to elaborate more than that on the Internet.
I hid or unfriended a lot of people on Facebook and unfollowed a bunch on Twitter. I can't take the hysteria or venom anymore. My life is not dictated by who is in the White House. I feel good about where my life is going and the constant negativity is not healthy for me.
I finally have a cross-stitch finish. It's Let's Sew by Ursula Michael. Not quite sure what I'm going to make with it yet. I'm gearing up to do a Stitch from Stash project for 2017 from a group I joined on Facebook. Basically, I set a budget for myself each month (in my case $25/mo.). You get credit towards your budget for finishes. Since I have my fabric for my Angel of Cross Stitch chart and a complete set of DMC floss, I've got plenty to keep me busy.