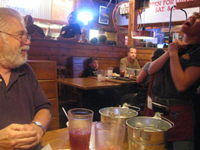 My dear old father o' mine had his 76th birthday today. We went to Texas Roadhouse for dinner to celebrate where we got to finish watching the Broncos win over the Raiders. Dad also got his free scoop of ice cream while being sang to by a group of pretty ladies. Dad just loves people singing to him!
We also went off of Daylight Saving time today. I may have mentioned
a time
or
two
or
three
how much I hate this idiotic practice of jacking around with time. While it doesn't take as long to recover in the fall, I'm still going to be a mess for a couple of weeks. Lame.
I started the cutest little crochet pumpkin pie today. It's called
Squeeze n' Sniff Pumpkin Pie
on a blog called Crafty is Cool. Here's a
link to my project page over on Ravelry
if anybody is interested.This will adorn my desk at work later in the week. I was really hoping to crank it out today, but I'm having a bit of trouble with the whipped cream on top. My stupid perfectionism getting in the way again, I'm sure. I also got a late start on it because I couldn't find a darned size E crochet hook anywhere in this house and had to run to Jo-Ann's to get one. I know as soon as I finish this, I'll have E hooks coming out of the woodwork.