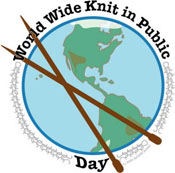 Happy
WWKIP
Day (or World Wide Knit in Public to the uninitiated and open to crocheters)! It's actually turned into a week-long event, so you've got until the 20th if you want to join in.
Don't know if I'm going to get much knitting done today, though, as...
It's also the 20th Annual
Estes Park Wool Market
. As soon as I wake up enough and find my coat and umbrella (it rained quite a bit last night and is still at it), I'm heading up. I can't wait to see the alpacas and angora bunnies.