My 1001 Day Project
Ends In:












DAYS : HOURS : MINS : SECS
Start: January 1, 2018 | End: September 28, 2020
Completed Goal
Goal Number: 18 ♦ Goal Status: Completed
Whew, I only had two chances to make this one happen and I managed to make wishes both times. Now we'll have to see if they come true!
Posted by LaDonna on 11/12/11 at 07:36 AM
Categories: Completed Goal • Permalink
Goal Number: 55 ♦ Goal Status: Completed
Got to knock the first goal off the list yesterday. Work finally gave me a pair of Broncos tickets to the
Broncos game against the Cincinnati Bengals
. They even threw in a VIP parking pass, so I didn't have to figure out where to park or take public transport. My friend Dave went with me and we had a really nice afternoon. The Broncos even managed to pull out a win. WhooHoo! BTW, I'm now a huge Eric Decker fan. Finally, a #87 worthy of wearing Ed McCaffrey's old jersey!
It was also the game where they presented Shannon Sharpe with his Hall of Fame ring. That guy is a class act.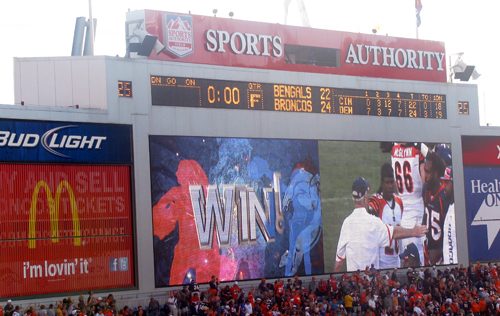 One down...100 to go!
Posted by LaDonna on 09/19/11 at 08:12 PM
Categories: Completed Goal • Entertainment • Permalink
Goal Number: 10 ♦ Goal Status: Completed
List item 10 was knocked off today when I finished the
Heelhead Scarf
that's I've been working on since the opening ceremony of the Winter Olympics (Feb 12). It wasn't actually the first project I've made with cables, but it is the first one that is actually finished. Picture to come as soon as it is dry from blocking.
Posted by LaDonna on 04/21/10 at 07:44 PM
Categories: Completed Goal • Hobbies • Permalink
Goal Number: 14 ♦ Goal Status: Completed
Yay, Marcus and I just got back from a week's vacation — to someplace other than Tennessee!
We left last Saturday, June 20th, and traveled to North and South Dakota. We got back very early in the morning yesterday. We promised people at work that we'd be back in time for Mary Kay's retirement party Saturday evening on the 27th. When I get a little bit of time, I'll post details of the trip.
08/2009 - OK, apparently I'm never going to get around to writing a post. Marcus did, though. You can
read about our trip over on his site
. Scroll down a bit, he wrote 3 different posts last month.
Posted by LaDonna on 06/28/09 at 04:02 PM
Categories: Completed Goal • Travel • Permalink
Goal Number: 16 ♦ Goal Status: Completed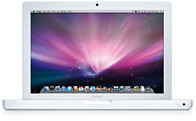 Today, thanks to help from Marcus (he put up half), I'm now the proud owner of a white 13.5" MacBook and I get to cross item #16 off the list.
I just got my tax refund and Microcenter was offering a $200 rebate, so now was a good time to get one. My poor G5 tower is having more and more problems. It was getting harder and harder to get it to boot and it stopped recognizing most of the memory in it. Trying to do any design work on it whatsoever was becoming a real drag. My Windows laptop is also on its last leg. The battery hasn't held a charge in a long time & the screen totally blacks out when it gets the slightest bit overheated.
Now I have to get some hard drive enclosures to house the data drives that were in the tower. I am also thinking I'm going to make this cool
felted laptop sleeve
for it.
Posted by LaDonna on 04/19/09 at 07:58 PM
Categories: Completed Goal • Permalink