My 1001 Day Project
Ends In:












DAYS : HOURS : MINS : SECS
Start: January 1, 2018 | End: September 28, 2020
Entertainment
Goal Number: 55 ♦ Goal Status: Completed
Got to knock the first goal off the list yesterday. Work finally gave me a pair of Broncos tickets to the
Broncos game against the Cincinnati Bengals
. They even threw in a VIP parking pass, so I didn't have to figure out where to park or take public transport. My friend Dave went with me and we had a really nice afternoon. The Broncos even managed to pull out a win. WhooHoo! BTW, I'm now a huge Eric Decker fan. Finally, a #87 worthy of wearing Ed McCaffrey's old jersey!
It was also the game where they presented Shannon Sharpe with his Hall of Fame ring. That guy is a class act.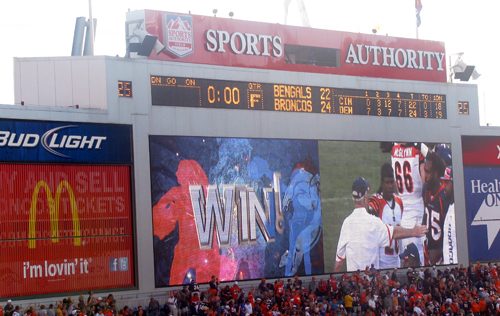 One down...100 to go!
Posted by LaDonna on 09/19/11 at 08:12 PM
Categories: Completed Goal • Entertainment • Permalink