My 1001 Day Project
Ends In:












DAYS : HOURS : MINS : SECS
Start: March 15, 2009 | End: December 11, 2011
Goal Number: 16 ♦ Goal Status: Completed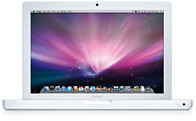 Today, thanks to help from Marcus (he put up half), I'm now the proud owner of a white 13.5" MacBook and I get to cross item #16 off the list.
I just got my tax refund and Microcenter was offering a $200 rebate, so now was a good time to get one. My poor G5 tower is having more and more problems. It was getting harder and harder to get it to boot and it stopped recognizing most of the memory in it. Trying to do any design work on it whatsoever was becoming a real drag. My Windows laptop is also on its last leg. The battery hasn't held a charge in a long time & the screen totally blacks out when it gets the slightest bit overheated.
Now I have to get some hard drive enclosures to house the data drives that were in the tower. I am also thinking I'm going to make this cool
felted laptop sleeve
for it.
Posted by LaDonna on 04/19/09 at 06:58 PM
Categories: Completed Goal • Permalink