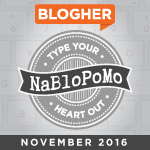 Well, I made the mistake of trying to upgrade my Expression Engine installation last night. This is what I get for not keeping up with the versions. It went horribly wrong and I couldn't even log in to my control panel. I felt it necessary as something changed in the last few days that broke my site and I couldn't edit past entries and it was telling me there were all these new comments that weren't there. Good thing Marcus & I made backups of everything. I'm back on my old installation, but I've removed some deprecated things that I think were breaking stuff. At least I'm able to post again and edit past posts. I am so frustrated that I've let my web knowledge get so rusty. Marcus will have to help me trouble shoot and get it updated once he's up here later this month.
I've spent a good chunk of today watching old movies on the Sundance channel. It's one of our free previews this month. Sometimes wish I could get more channels, but the cost isn't really worth it.
Speaking of TV, Gilmore Girls is on in less than 2 weeks. There's an ice cream company in New York, Ample Hills Creamery, selling a Gilmore Girls branded ice cream. Tempted to splurge and order some. Not sure when I'm going to settle in to watch. I'm probably going to be one of two people working in our office the day after Thanksgiving. Hopefully we can keep the front door locked. Not really wanting to be bothered by people on Black Friday (the front of our office is an antique-type store), especially since there's really nothing cool to buy there. Will probably have to do it when I get home.
So, stuff like this below is what is frustrating me about my craft supplies situation. I thought I had found all floss and had it wound on bobbins and cataloged in my Xstitch app. Nope, while looking for the ever elusive size 7 knitting needle, I found this today: