I've had the most interesting day today. Since Marcus was out mountain biking with Mike, I decided I was going to go browse a couple of my old shopping hangouts.
My first stop was Album Memories, an independent scrapbook store at 64th and Monoco St. in Commerce City. The woman that owns that store is one of the neatest ladies I've ever met. She and I have a lot in common and she even used to be a pizza manager. I haven't been to visit her since right after I lost my job last July and I was kind of afraid that she'd no longer be in business. Fortunately, she was still there and open, so I stopped in. She doesn't have the biggest variety of things, but she does carry things I don't see in the big chain stores. She's also the biggest Sizzix dealer in the country and she does the best demos of what those products can do. I'm in love with the new machine that's out and want to get it. Unfortunately, I don't really have the money to spend ($100 for the machine plus the dies are extra) on something crafty like that. I will one day, though. Those things are freakin' cool. I noticed that there is a die to cut out those cardstock embroidery floss bobbins that I use to wind my cross stitch floss. Anyway, I felt really good and positive after leaving her store. Talking to her about how different and better my life is now than when we last met really made me grateful for where I am now.
The next stop was
Black & Read
, a cool independent music/book store over at 80th and Wadsworth. My purpose there was to get some used Stephen King books and start working on my summer goal of getting and reading all of my missing King novels. I love browsing that place. I also found an Orson Scott Card novel I was missing. I was chatting with the guy at the counter while he was ringing up my purchases about Stephen King. He was quite knowledgeable about the dude. He asked if I had seen King on television recently in his band. I hadn't, although I knew that King performed in a group consisting of other writers. The woman behind me told me the group was called
The Rock Bottom Remainders
, so I made a mental note to look that up when I got home. I didn't realize Dave Barry was in it, though. I was watching some videos they had posted on YouTube of the band interviewing with Steve Martin. I'll have to watch more of that at a later date. Funny stuff.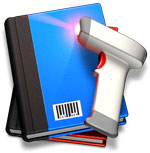 When Marcus got home later in the afternoon, I was telling him about how I had a list of missing King books that I had made that I took with me when I was looking for books. He asked if I kept a database of my books or something and I told him that I had gotten the bibliography off of
StephenKing.com
and had made myself a checklist in a table in Word. He then asked if I had ever heard of a program called Delicious Library made by the company
Delcious Monster
. I hadn't. It's an Apple award winning cataloging program to keep track of books, music, movies and games. The company and program are the product of programmer
Wil Shipley
, founder of
The Omni Group
, makers of some really cool Apple Mac apps such as Omni Graffle and Omni Outliner.
He told me the program uses an iSight camera as a bar code scanner to input your items into the database. I was intrigued and so I downloaded the trial and I'm hooked! I can't believe how freaking awesome this program is. First off, the interface is really slick. It looks like you're looking at a bookshelf. The icons are relative in size to the actual item they portray. You have the ability to keep track of who has borrowed your stuff via your address book. You can group your stuff into collections (similar to playlists in iTunes). You can view similar items to one you select on Amazon. I'm just blown away by this thing. There is a third party program called
DeliciWeb
that allows you to publish your library to a web page. You can see a test file over at the
Domestic Geek Library
. There's also a third party program to bring your iTunes Library into it. I'll have to wait until I raise the $40 to purchase a license before I can try that one, though. I want this software so bad!!!!!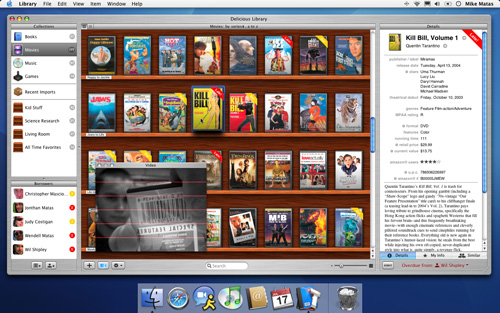 Anyway, I guess that's enough about my day today.