Here's a
mish-mash
of stuff that I've been wanting to share so I can close some of my Firefox tabs.
Bugknits
. This woman's work is awesome! Althea Crome creates the most amazing colowork sweaters in miniature. (Yes, the sweater is being shown on fingers).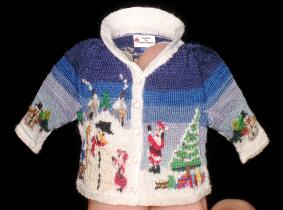 I love the vintage dish towel I saw on the
Cherry Hill Cottage
blog (Beware! It's one of those sites with autoplay music). It's the one with the crocheted chicken edging. I wish I could find a pattern for those. They are adorable!
I want to get this
playhouse
for Flash from the BinkyBunny.com site. It's not that expensive, so if she doesn't use it, I wouldn't be out that much money.
I want to make this cute
owl hat
.
I love these charts for
Harry Potter blank squares
. Maybe I'll make myself a Severus pillow.

There, that will close a few tabs (especially the danged autoplay music one).