I've been really getting into metaphysical crystals and stones lately. A few weeks ago I got myself a selenite pendant (it's supposed to aid in sleep and dispel negativity). I've been reading a lot about Moldavite. Unfortunately, they're danged expensive. I found one for sale on etsy this last weekend for a relatively reasonable price from a place in Nederland and it arrived today, as well as a
9 Planets bracelet that I ordered from MariaShaw.com
. I can't wait to work with them and see what comes.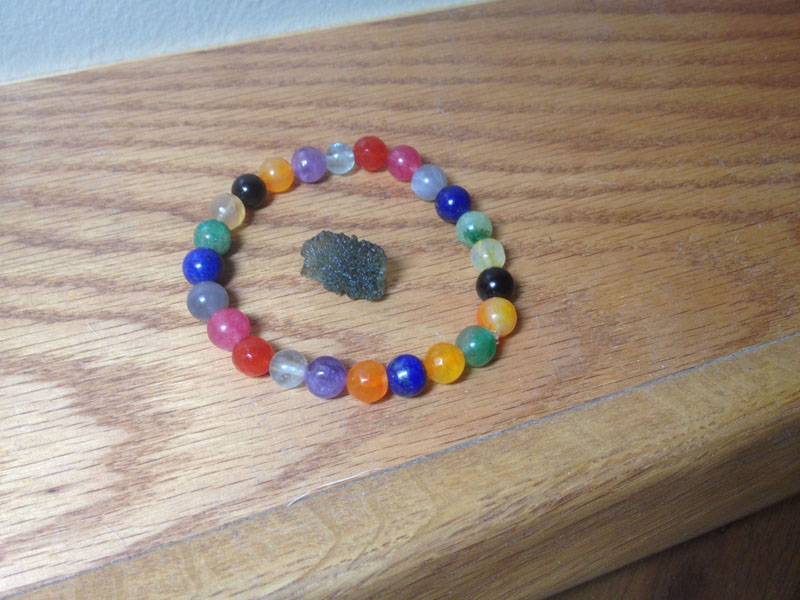 According to the site where I bought it, here is what each of the stones does:
Sun - Orange Jade - vitality, health, energy, happiness
Moon - Moonstone - soothes emotions, increases intuition, safety in travels, brings peace
Mercury - Green Agate - Increases clarity, perception, positive thinking
Venus - Pink Agate - Love, harmony, joy, heals relationships, attraction
Mars - Carnelian - Energy, sex drive, creativity, balance
Jupiter - Yellow Agate - Creates wealth and prosperity
Saturn - Lapis - strength, willpower, healing
Uranus -Amethyst - Aids in psychic abilities, helps one see the truth, spiritual growth and healing
Pluto - Black onyx - dispels negativity, grounding, focus, and structure
Neptune -Fluorite - healing on all levels, dreaming, perception.